LEADERSHIP SERIES
3 Critical Reasons to Improve Corporate Culture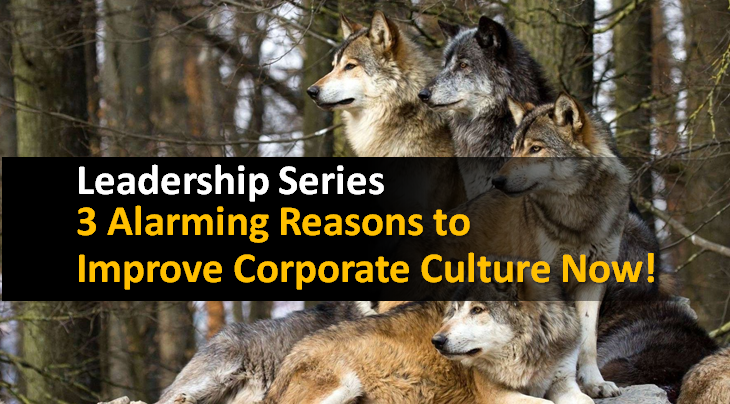 ---
EXECUTIVE SUMMARY
Because of disruptive changes in the talent pool, changes in U.S. demographics and candidates' access to information, it will no longer be good enough for companies to just locate talent. Businesses will need to become more attractive to talent in order to,
ENGAGE the best candidates
ATTRACT the best new team members
RETAIN the best performers
---
SOURCES OF DISRUPTION
There are three critical reasons why companies today must improve their corporate culture…if they expect to remain competitive. And there is a significant driver behind this imperative: a wave of disruption is coming in the form of change – not from technology or innovation – but rather a transformational change in the profile of our workforce. And we're watching the pace of this change accelerate now, for example,
Disruption Trend #1
The talent pool continues to metamorphosize from influences like the "gig culture," web technologies, virtualized workforces, globalization, new generational thinking…and the list goes on.
Disruption Trend #2
The environment is also becoming an "employee market" again as a result of demographic changes in the U.S. population, such as the increasing number of retirees, the smaller generation of new workers and so on.
Disruption Trend #3
Candidates are more savvy shoppers. They have access to unprecedented amounts of information for researching career opportunities. So, businesses with any appearance of unattractiveness will find it difficult to attract discriminating candidates and high performers.
This disruption will serve as transformative; and, like a tsunami will destroy some aspects of our traditional business models and also create new landscapes which do not exist today.
---
THEREFORE, BECAUSE OF THESE MACRO CHANGES IN THE TALENT POOL,
It will no longer be good enough for companies to just locate talent.
Businesses will need to make transformational improvements to their culture in order to become more attractive to talent so they can effectively ENGAGE the best candidates, ATTRACT the best new team members and RETAIN the best performers.
ENGAGE the best candidates means,
Looking appealing to a candidate
Addressing all the negative comments on the Internet about your company from former disgruntled employees
Developing your unique Employer Brand to create differentiation
Treating all candidates well – like investors – during the interview phase
Communicating with them instead of being the industry standard resume "black hole"
And a lot more!
ATTRACT the best new team members means,
Not using traditional interrogation style interviewing techniques; you wouldn't interview an investor this way
Not hiring talent as cheaply as possible, which creates a win for the company and a loose for the new employee (at which point they take the job and keep looking)
Offering the right set of total rewards, perks and opportunities for your target employee demographic – meaning the things that are important to your team
Offering wages that are competitive with market…or better
And a lot more!
RANDOM SIDE BAR: I've never understood why organizations throw so much money at recruiting to combat turnover…when those dollars could be repurposed to improve total rewards and culture and eliminate the need for so much recruiting.
RETAIN the best performers means,
Cultivating and maintaining a healthy, thriving and positive corporate culture that goes beyond the "check-off-the-box" annual employee engagement survey and focus groups
Giving people a reason to wake up in the morning
Esteeming people as trusted team members – not expendable "resources"
Creating professional fulfillment and personal satisfaction that goes beyond a paycheck
And a lot more!
---
TAKE-AWAYS AND ACTION ITEMS

 If your company needs help with your employer brand and becoming more attractive to candidates – or just help with recruiting talent…email us for more information. Argus Talent Services is not a staffing company…we're a recruiting and consulting firm and very different. Find out more at:

 If you need someone from outside your company to come in and address your leadership team to create a burning platform, initiate change and cultivate consensus, check out : http://principles4success.com/keynote-and-special-speaker-services/.

 If your company needs help with culture transformation…you're not alone. Many organizations already recognize the need for change but do not have an a transformation plan beyond employee engagement initiatives. We can point you to resources which will assess, design and deliver solutions for your unique environment. Contact us at Talent@ArgusX.com
……………………………………………………………………………
If you valued this article, please share via Twitter, LinkedIn, Facebook, Google+, etc. The author, Mark Galvan, is the President of Argus Talent Services, which is globally headquartered in Dallas-Ft. Worth, Texas USA.
Argus Talent Services offers both small and large clients…
★ Long-Term, Contract & Project Staffing Services
★ Permanent Placement & Retained Search Services
★ Temp-to-Perm Staffing Services
★ Discrete Sourcing, C-Level and Executive Placement, Unique Requirements
★ International Assignments, Professional and Technical Sector Searches
★ Recruitment Process Outsourcing (RPO)
★ Talent Acquisition Strategy, Staffing & Recruiting
★ Talent In-sourcing & Out-sourcing Strategy